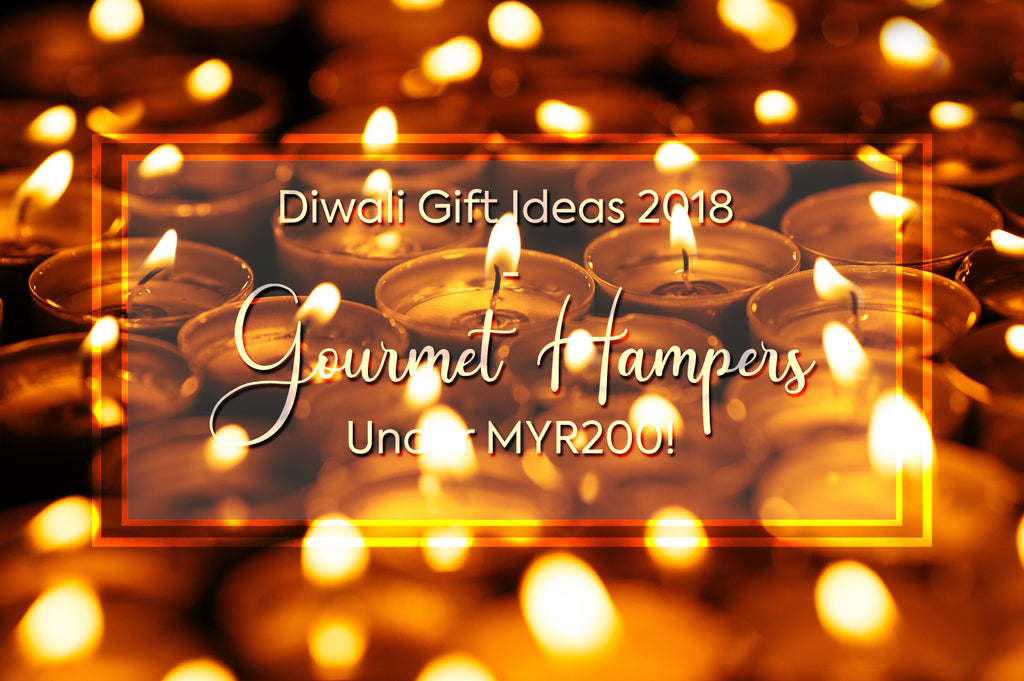 Diwali Gift Ideas 2018 - Gourmet Hampers Under MYR200
Posted on November 01 2018
Diwali is a five-day celebration for Hindus, Sikhs and Jains all around the world. This festival is commonly known as the Festival of Lights, and this year, it will be celebrated on 7th November. So, don't forget to mark this down on your calendar!
The story behind the festival is that it is commemorated in honour of Rama-Chandra, the incarnation of the god Vishnu. According to the legend, Rama won a 14-year-long battle against demons and finally returned to his people. Diwali marks the day of his triumphant return.
Diwali coincides with the Hindu New Year, and deeply marks new beginnings, succession of good over evil and the symbolic nature of light overcoming darkness. Days before the festival, it is routine for celebrators to clean their houses and workplaces thoroughly in preparation for the delightful events to come.
The first day of the Diwali, Dhanteras, entails luminating homes with bright lights and candles. People also purchase precious jewellery and worship the goddess of wealth, Lakshmi.
On the second day, Naraka Chaturdashi, the victory of Lord Krishna over a demon called 'Narakasura' is celebrated. People perform a morning ritual: wake up early, bathe, wear new clothes, offer puja and enjoy a delicious breakfast with their loved ones. The house is colourfully decorated for the occasion.
The third day, Lakshmi Puja, is the main festival day. It is the day where celebrators wear new clothes or their best outfits. Lamps are lit and pujas are offered to the goddess Lakshmi. There will be fireworks and the atmosphere will be brimming over in excitement as everyone visits families and friends with offerings of sweets and exchanges of gifts.
The fourth day of the festival is known as Padwa. It celebrates the love and mutual devotion between the husband and wife. The husbands give gifts to their wives and pujas are offered to Lord Krishna.
Bhai Duj is the final day of Diwali, but it is just as significant as the rest. Celebrating the loving relationship between siblings, women and girls gather together to perform a puja with prayers for the well-being of their brothers. This is followed by joyous festivities, food-sharing and gift-exchanging.
This jubilant festival is all about making time for and celebrating with your loved ones. We understand how important it is to make guests and hosts feel welcomed and extra special during these gatherings, and so, we have come up with a wonderful selection of gourmet hampers for everyone to enjoy. Read on to uncover our top three picks!
The ultimate gourmet hamper packed with all your favourite treats! Dig deep to see Dareo 65% / 85% Dark Chocolate Bar, Dareo Tiramisu Almond Milk Chocolate, Beryl's Almond Coated with Strawberry Chocolate, Beryl's Coconut Crisp Coated with White Chocolate, Beryl's Milk Chocolate Coconut Rolls, Love Earth Organic Sunflower Seeds Cracker and JC Harvest Raspberry Butter Cookies. Price: 168.00 MYR
Treasure your moments with your loved ones and dish out all the great stories while munching on these delicious snacks. Packed in Gift Hampers Malaysia Luxury Basket, you will find Beryl's Gaufrette with Milk Chocolate, Beryl's Coconut Wafer Rolls with Black Sesame Seeds, JC Harvest Espresso Crunch, Dareo Almond Real Dark Chocolate, Love Earth Natural Cashew Nut Cracker, Bontea Signature Earl Grey Tea and Heidi Bouquet Tiramisu Chocolate. Price: 194.00 MYR
Here is a delightful mix of different treats for everyone! This hamper includes English Tea Shop Organic Black Spiced Tea, Mum's Bake Apple Cookies, Oglivie & Co Sugar & Spice Shortbread Biscuits, Oglivie & Co Cheese Nibbles, Tea Break Snack House Handmade Cookies in Jar, Beryl's Assortment Milk Chocolate, Daiana Almond Dark Chocolate, Love Earth Natural Walnut, and Beryl's Milk Chocolate Coconut Rolls. Price: 280.00 MYR