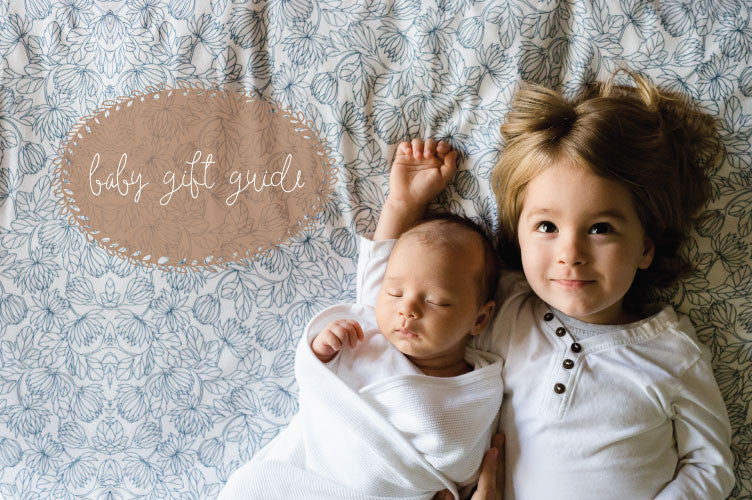 Newborn Baby Gift Ideas
Posted on July 20 2017
When a family member or friend has a new baby, a lot is happening. Everybody is adjusting to the changes that a new baby brings, and this can be a stressful time. For this reason, sending a thoughtful gift or throwing a party for the changing family is a great way to show that you care. This guide will help you find the perfect present for the new baby and parents.
For any family, a new baby comes with changes. The family might not be sleeping as much as they used to. They might not be eating the same foods because they are in a hurry. There are more voices in the house, including that of a newborn baby. All of this can be stressful and is all the more reason why you should end a thoughtful gift to the family.



Preparing for a New Baby




As you probably know, a family needs many items to prepare for the new baby. While many of the essentials may be covered already, there is still a lot to consider. Babies need clothes, toys, teething accessories, bath products, blankets, and more. This is where you can come in.
Clothes are always a necessity. Babies tend to spit up and may get dirty from playing on the ground, so new parents always appreciate new baby clothes. Many gift hampers contain adorable newborn clothes.
Accessories are often not necessary, but they can make raising a child more fun. They look fantastic in photos and can be used to make the day much more fun. Parents love these fun accessories and toys for their babies.
Relaxation is another way new parents prepare for the changes to come. A new baby can take a lot out of even the most energized new parents. This is why so many new parents appreciate gift hampers full of fun baby items from their friends.
How to Celebrate the Birth of a Baby


Celebrating a newborn's birth is a key part of showing how much you care for the new family. Many people opt to celebrate with a baby shower or similar party with gifts and delicious food. No matter the occasion, it is customary to send a thoughtful present to the new parents.
Unfortunately, there may be a time when you are unable to attend a baby shower or party for the new baby. You might be traveling or going to school far away, or you might be sick for the day. Either way, you may still want to send a gift as part of the celebration. A gift hamper may be the perfect choice.
Gift Ideas for a New Baby


Selecting the ideal gift for a newborn does not have to be hard. We offer a number of excellent choices that are perfect for baby and parents. Each gift hamper is full of items that are safe and fun for everybody
The Cleansing Essential Gift Basket is perfect for the Disney fan and future baby fan in your life. This exclusive basket contains helpful and fun items, including face towels, feeding bottles, and bath items. Each item is meant to make parenting easier.
We also recommend the Teddy and Me gift hamper. This hamper is full of exciting, new items that every parent will appreciate. From the mild talc to baby shampoo, the items are designed for a relaxing bath time ritual. This gift also includes a cuddly teddy bear and comfortable pillow.
The Dream Gift for Newborn Baby is a fantastic option for your loved ones. Purchase this gift hamper of cozy items ranging from plush toys and bath essentials to an adorable outfit and set of face towels.
Finally, we highly recommend the Intimate Gift Set for Baby Girl. Welcome the new little girl home with this gift full of bedtime items. Your loved ones will receive an adorable romper set, bath items, and lotion to soothe baby's skin. All of this arrives in a lovely round gift box.
Ultimately, selecting a newborn baby gift does not need to be difficult when you have options. We offer high-quality items that arrive on time and presented beautifully. This leaves your loved ones feeling appreciated and loved during so many changes in their life.