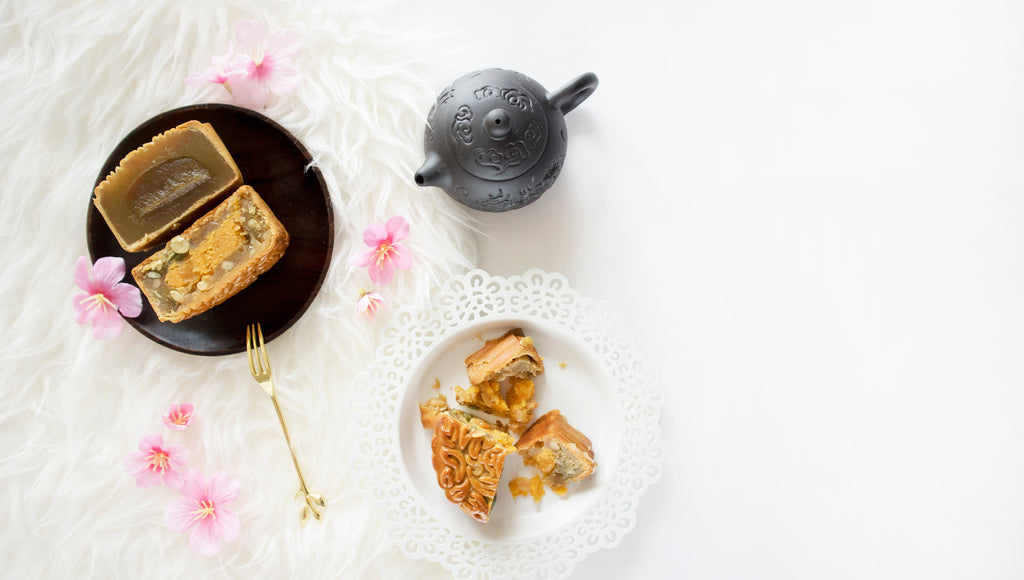 Guide To Mid-Autumn Festival Mooncakes in Malaysia
Posted on August 23 2019
What mooncakes are available in Malaysia?
During Mid-Autumn Festival no one can say ''no'' to mooncakes!
Traditionally filled with lotus seed paste and egg yolk, beautiful mooncakes are the symbol of the Mid-Autumn Festival. They occupy a rich space in our Autumn-time imagination: traditionally baked as a thick, tender pastry wrapped around a dense sweet filling, they represent moon, harmony and longevity. These sweet delicacies are increasingly popular in Asia and worldwide and have an endless variety of fillings and tastes. Depending on the area and region, there are many different mooncake styles: sweet or sour, with chewy, flaky or tender crust, combining different kinds of flour or with many different fillings. They can be traditional or contemporary, filled with lotus seed, jujube, sweet beans or, more recently, with jelly, coffee, green tea, strawberry, durian or chocolate.
What mooncakes are popular in Malaysia?
Malaysia has its own unique traditions regarding Mid-Autumn Festival, including the production of Malaysian-style mooncakes. The list of mooncakes available in Malaysia is endless and there are many places to get them from. Check out this list of best mooncakes available in Malaysia to find your perfect Mid-Autumn delicacy. Celebrate the Mid-Autumn Festival with best mooncakes!
Fancy more traditional mooncakes?
If you wish to spend this Mid-Autumn Festival in a more traditional way, you should choose baked mooncakes with more classic fillings, such as sweet bean paste, lotus seed, jade custard, Cantonese-style fruits and nuts and egg yolk. These mooncakes are never boring! Black sesame mooncake with egg yolk is also a Malaysian specialty and we recommend trying it.
Where to find them?
There are many shops in Malaysia selling mooncakes in different price range. Bakeries like Tai Thong, Overseas Restaurant, The Baker's Cottage and many others produce traditional mooncakes. If you need halal mooncakes, we recommend you contact Foh San bakery which produces traditional halal mooncakes. For cheaper options, try searching in Starbucks.
Craving something new and original?
Mooncakes become increasingly popular and the growing market pushes for more culinary innovations. With the import of new products to Asia, different fillings like jelly and chocolate became popular. As the Mid-Autumn Festival spread to Southeast Asia, including Malaysia and neighbouring countries, durian mooncakes are among new favourite ones. Mini mooncakes are also a funny recent trend, a cute and fancy reinterpretation of traditional Mid-Autumn pastries. Moreover, we should not forget about snow skin mooncakes, an original Hong Kong invention. Sky is the limit!
Where to search for new styles of mooncakes?
Overseas Restaurant has a choice of chocolate and coffee mooncakes as well as green tea and mango paste ones. They also have a small offer of mini mooncakes. Tai Thong offers a rich selection of snow skin mooncakes, filled with coconut, lotus, red bean, egg yolk and durian.
Searching for best mooncakes for kids?
If you search for the best mooncake for children, Malaysian bakers will not disappoint you. There are many of them out there offering of funny and original mooncakes, made with creativity and attention to detail. Mini mooncakes are also a good choice for children.
Where to find funny mooncakes?
Good Chen bakery is specialized in original and funny pastries, producing mooncakes especially popular with children: Hello Kitty Mooncakes, Doraemon Mooncakes or My Melody Mooncakes. They will be the children's favourites!